Our hotels
All our hotels are located in the city center, and this year we are expanding with more options. As before the corona pandemic, we choose not to compromise on quality. We continue with 4-star Pullman, Mercure and Posh Pads, as well as Lock & Key. In addition, we have expanded with Quest Apartment Hotel, which is located right in the center of Liverpool.
4-star hotel – Pullman Hotel
In the heart of Liverpool's iconic harbor area, just moments from the award-winning Albert Dock, the Pullman Liverpool Hotel is one of the UK's most vibrant spots. Each of the 216 comfortable rooms is designed with style in mind and has free high-speed Wi-Fi as a standard. The hotel has single, double and twin rooms. For companies that require meetings, there are ample opportunities to rent meeting / conference rooms. Breakfast is included in the package.
4-star hotel – Mercure Atlantic Tower
The 4-star Atlantic Tower is our standard hotel. The hotel has single, double, twin and triple rooms. The hotel also has its own bars, and breakfast is included in the package.
For business customers, the hotel can provide conference rooms with coffee and hot lunch if so desired.
Central Lock & Key hotel in Duke Street
This is a cozy hotel, with only 14 rooms and a small bar as a natural meeting place. The hotel is very centrally located on Duke Street, not far from Posh Pads. Breakfast is included in the package and is served until 15:00 (!). For groups of approx 30 people, the entire hotel may be reserved exclusively for your travel party.
Great apartments – Posh Pads
Posh Pads is right on the pedestrian street in Liverpool. The apartments are large, with two bedrooms, two bathrooms and a living room with kitchen. In the kitchen you can make breakfast and dinner if you wish. The apartments are fit for 4-5 people.
Quest Apartment Hotel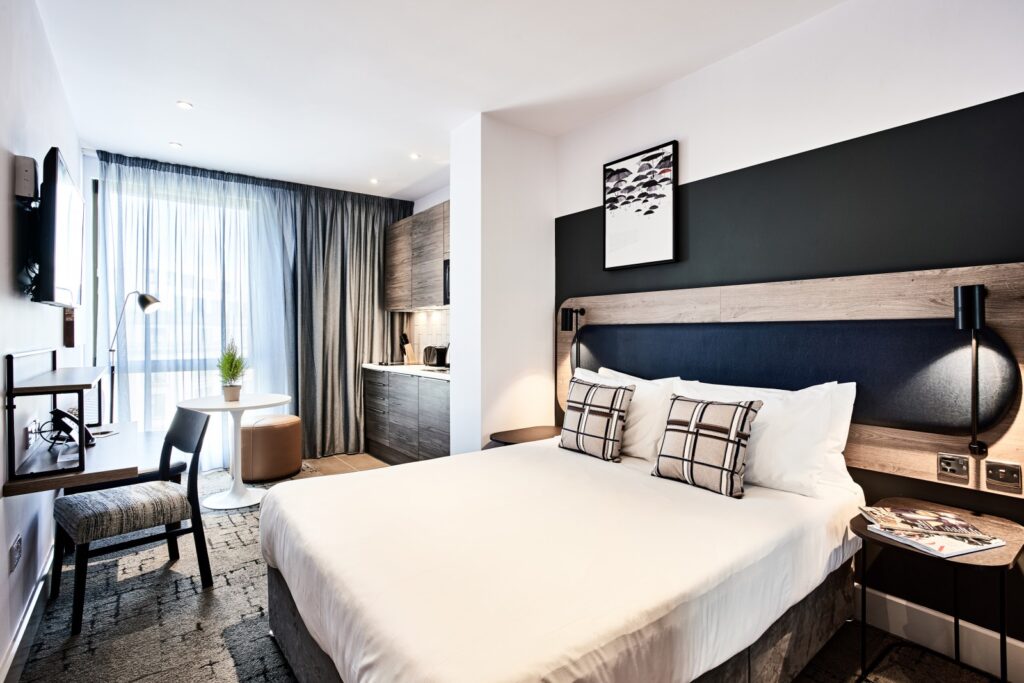 Our apartment hotel provides guests with all the living space and comfort they need when they are away from home. Whether your stay is long or short, our Liverpool apartments will offer the perfect accommodation.
Just a short walk from Central Station, this apartment hotel is ideally located in the heart of Liverpool. With our Liverpool apartments you will be able to experience the busy atmosphere of the neighborhood's streets, a selection of beautiful antique buildings and a large selection of restaurants and retailers – right on your doorstep.